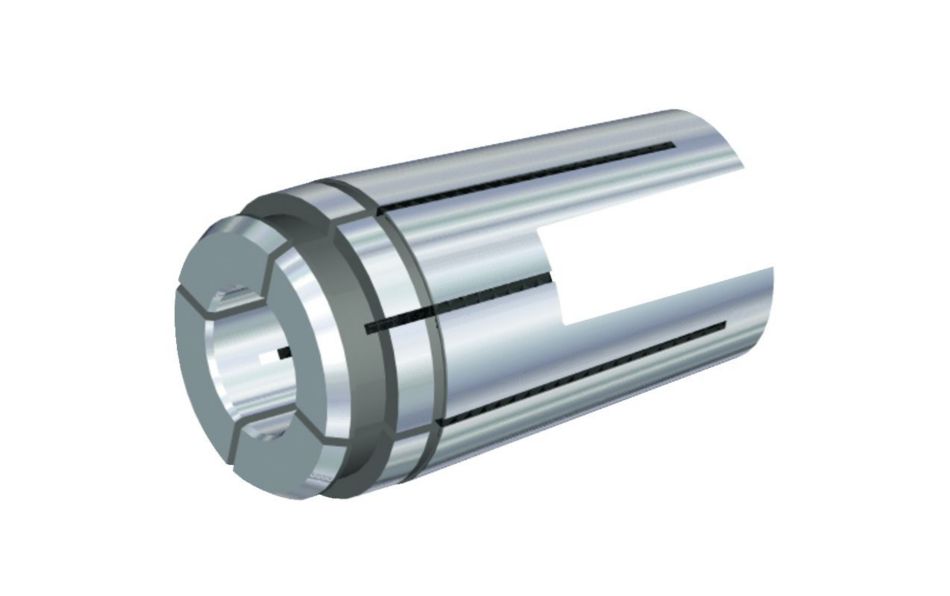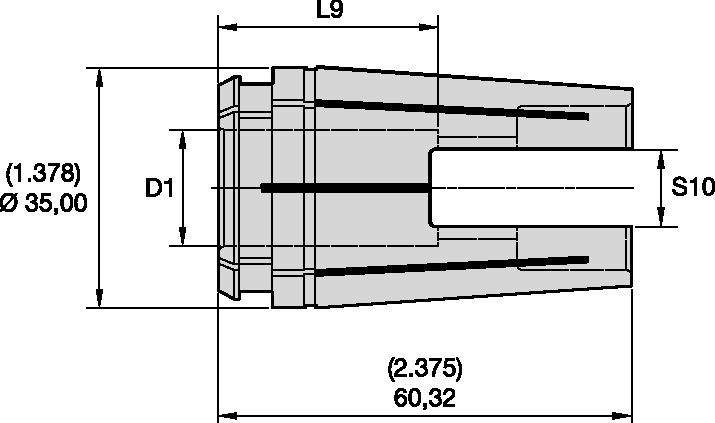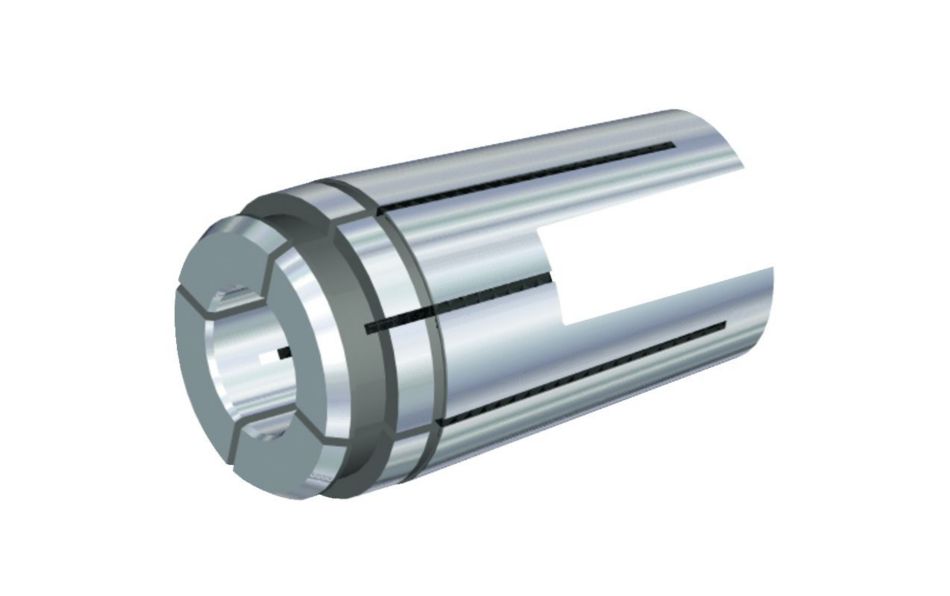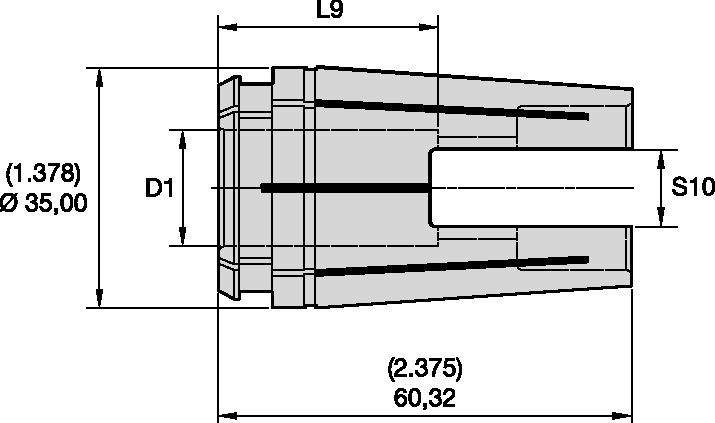 TG100 Solid Tap Collet • Solid Tap Coolant
TG100 Single-Angle Solid Tap Collets
Features and benefits
Unas ranuras rellenas de goma sellan la boquilla en las aplicaciones de herramientas con suministro de refrigeración.


Se puede usar en todos los mandriles con boquilla TG estándar.


Proporciona un agarre increíble (ventaja de 3:1) y precisión para todas las aplicaciones de roscado.


La ranura de la parte trasera de las boquillas actúa como impulsor para el cuadrado del macho de roscar.


Sistema de boquillas de ángulo único ERICKSON™ de estándar industrial.


Fabricado según DIN 6499 y precisión de clase 2.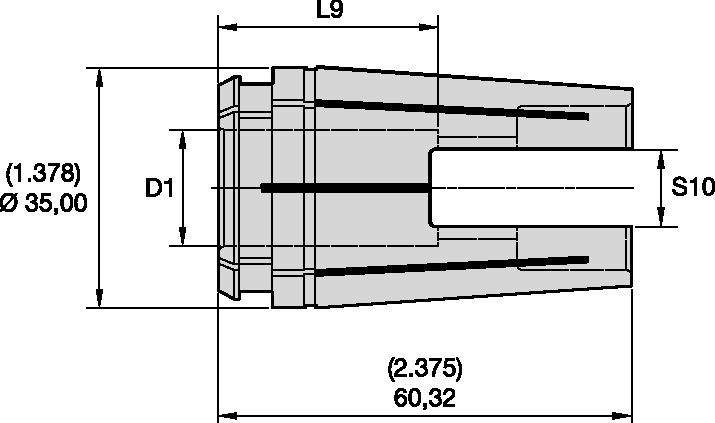 Change the visible columns with any of the parameters listed below. A maximum of 7 columns can be displayed.
Displaying
1-

10
of
31
results
| SAP Material Number | ISO Catalog Number | ANSI Catalog Number | Tap Range | Tap Range | Collet Series | [D1] Clamping Diameter Maximum | [D1] Clamping Diameter Maximum | [S10] Square Size | [S10] Square Size | [L9] Clamping Hole Length | [L9] Clamping Hole Length | |
| --- | --- | --- | --- | --- | --- | --- | --- | --- | --- | --- | --- | --- |
| 1017462 | 100TGST006P | 100TGST006P |   | 1/16P & 1/8P(SS) | TG100 | 7.9380 | .3125 | 5.9440 | .2340 | 20.6250 | .8120 | |
| 1017463 | 100TGST012P | 100TGST012P |   | 1/8P(LS) | TG100 | 11.1130 | .4375 | 8.3310 | .3280 | 20.6250 | .8120 | |
| 1017388 | 100TGST025 | 100TGST025 | M6 & M6.3 | #14 & 1/4 | TG100 | 6.4770 | .2550 | 4.8510 | .1910 | 20.6250 | .8120 | |
| 1017504 | 100TGST025P | 100TGST025P |   | 1/4P | TG100 | 14.2880 | .5625 | 10.6930 | .4210 | 20.6250 | .8120 | |
| 1017389 | 100TGST031 | 100TGST031 | M7 & M8 | 5/16 | TG100 | 8.0770 | .3180 | 6.0450 | .2380 | 22.0470 | .8680 | |
| 1017390 | 100TGST037 | 100TGST037 | M10 | 3/8 | TG100 | 9.6770 | .3810 | 7.2640 | .2860 | 22.8600 | .9000 | |
| 1017505 | 100TGST037P | 100TGST037P |   | 3/8P | TG100 | 17.7800 | .7000 | 13.4870 | .5310 | 20.6250 | .8120 | |
| 1017391 | 100TGST043 | 100TGST043 |   | 7/16 | TG100 | 8.2040 | .3230 | 6.1470 | .2420 | 24.4600 | .9630 | |
| 1017392 | 100TGST050 | 100TGST050 | M12 & M12.5 | 1/2 | TG100 | 9.3220 | .3670 | 6.9850 | .2750 | 23.6730 | .9320 | |
| 1017506 | 100TGST050P | 100TGST050P |   | 1/2P | TG100 | 17.4630 | .6875 | 13.0810 | .5150 | 20.6250 | .8120 | |
| 1017393 | 100TGST056 | 100TGST056 | M14 | 9/16 | TG100 | 10.8970 | .4290 | 8.1790 | .3220 | 27.6100 | 1.087 | |
| 1017454 | 100TGST062 | 100TGST062 | M16 | 5/8 | TG100 | 12.1920 | .4800 | 9.1440 | .3600 | 27.6100 | 1.087 | |
| 1017455 | 100TGST068 | 100TGST068 | M18 | 11/16 | TG100 | 13.7670 | .5420 | 10.3120 | .4060 | 31.5980 | 1.244 | |
| 1017456 | 100TGST075 | 100TGST075 |   | 3/4 | TG100 | 14.9860 | .5900 | 11.2270 | .4420 | 30.8100 | 1.213 | |
| 1017507 | 100TGST075P | 100TGST075P |   | 3/4P | TG100 | 23.0200 | .9063 | 17.2470 | .6790 | 20.6250 | .8120 | |
| 1017457 | 100TGST081 | 100TGST081 | M20 | 13/16 | TG100 | 16.5610 | .6520 | 12.4210 | .4890 | 16.5610 | .6520 | |
| 1017458 | 100TGST087 | 100TGST087 | M22 | 7/8 | TG100 | 17.7040 | .6970 | 13.2840 | .5230 | 17.7040 | .6970 | |
| 1014092 | 100TGST090071M | 100TGST090071M | M9 & M12 |   | TG100 | 9.0000 | .3543 | 7.1000 | .2795 | 30.0000 | 1.181 | |
| 1017459 | 100TGST094 | 100TGST094 | M24 | 15/16 | TG100 | 19.3040 | .7600 | 14.4780 | .5700 | 19.3040 | .7600 | |
| 1017386 | 100TGST10 | 100TGST10 | M4.5 & M5 | #10 & 3/16 | TG100 | 4.9280 | .1940 | 3.8610 | .1520 | 4.9280 | .1940 | |
| 1017460 | 100TGST100 | 100TGST100 | M25 | 1 | TG100 | 20.3200 | .8000 | 15.2400 | .6000 | 20.3200 | .8000 | |
| 1014086 | 100TGST100080M | 100TGST100080M | M10 |   | TG100 | 10.0000 | .3937 | 8.0000 | .3150 | 30.0000 | 1.181 | |
| 1014087 | 100TGST110090M | 100TGST110090M | M14 |   | TG100 | 11.0000 | .4330 | 9.0000 | .3543 | 30.0000 | 1.181 | |
| 1017461 | 100TGST112 | 100TGST112 | M27 | 1 1/16 & 1 1/8 | TG100 | 22.7580 | .8960 | 17.0690 | .6720 | 22.7580 | .8960 | |
| 1017387 | 100TGST12 | 100TGST12 |   | #12 & 7/32 | TG100 | 5.5880 | .2200 | 4.1910 | .1650 | 5.5880 | .2200 | |
| 1014088 | 100TGST120090M | 100TGST120090M | M16 |   | TG100 | 12.0000 | .4724 | 9.0000 | .3543 | 30.0000 | 1.181 | |
| 1014089 | 100TGST140110M | 100TGST140110M | M18 |   | TG100 | 14.0000 | .5512 | 11.0000 | .4331 | 30.0000 | 1.181 | |
| 1014090 | 100TGST160120M | 100TGST160120M | M20 |   | TG100 | 16.0000 | .6299 | 12.0000 | .4724 | 30.0000 | 1.181 | |
| 1014091 | 100TGST180145M | 100TGST180145M | M22 & M24 |   | TG100 | 18.0000 | .7087 | 14.5000 | .5709 | 30.0000 | 1.181 | |
| 1017384 | 100TGST6 | 100TGST6 | M3 & M3.15 & M3.5 | #0-#6 & 1/8 | TG100 | 3.5810 | .1410 | 2.7940 | .1100 | 3.5810 | .1410 | |
| 1017385 | 100TGST8 | 100TGST8 | M4 | #8 & 5/32 | TG100 | 4.2670 | .1680 | 3.3270 | .1310 | 4.2670 | .1680 | |
Replacement
This item is not available
Replacement Product
This item may be available through a distributor