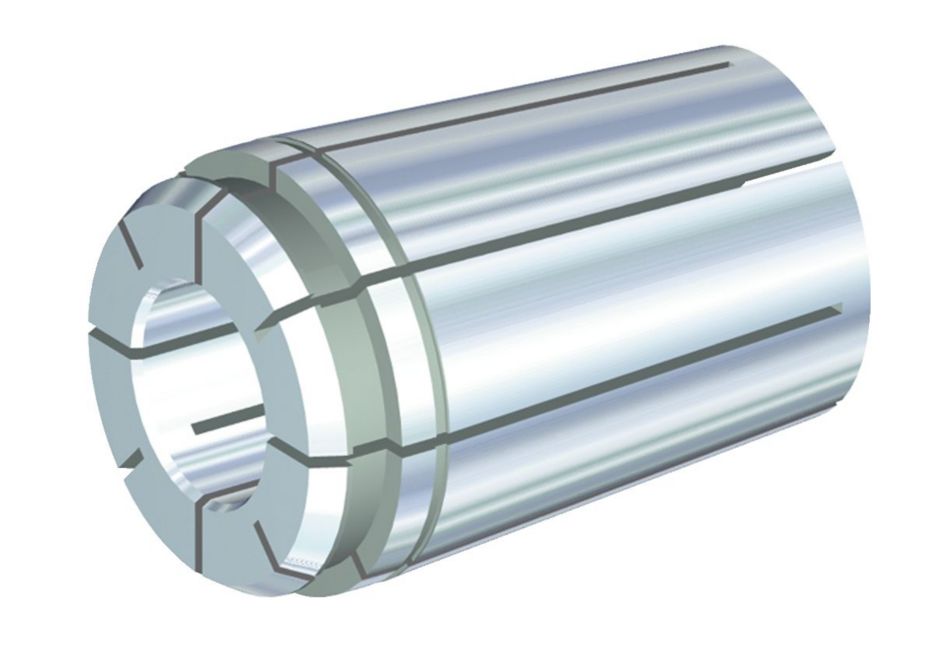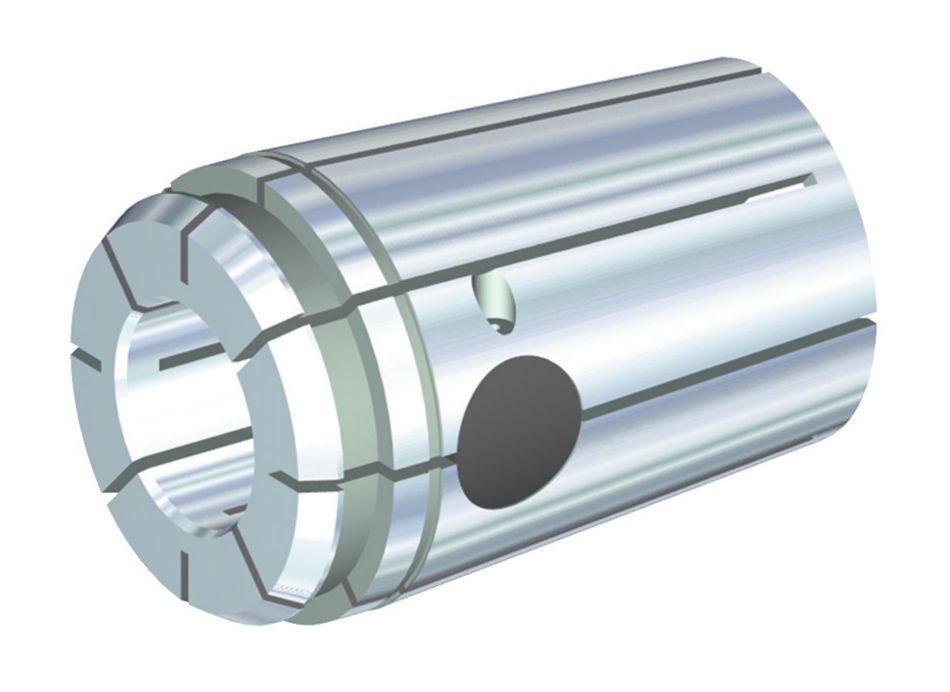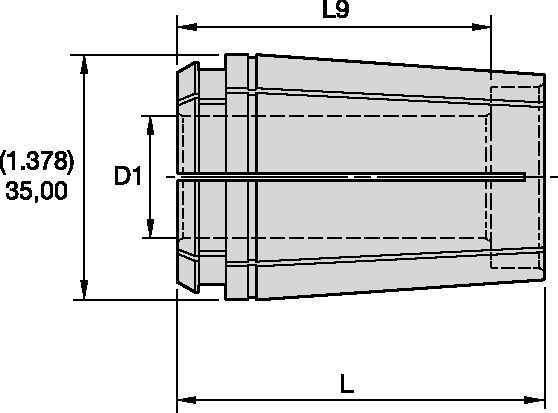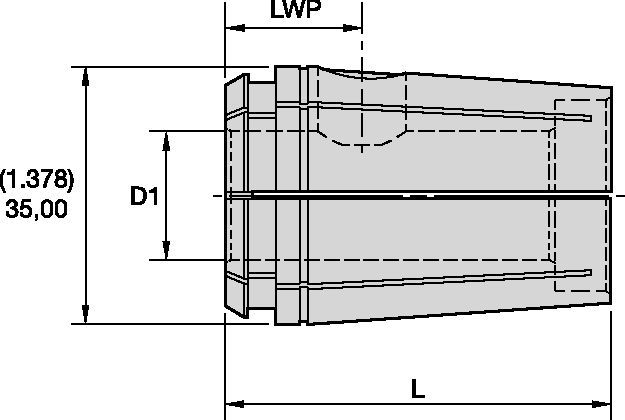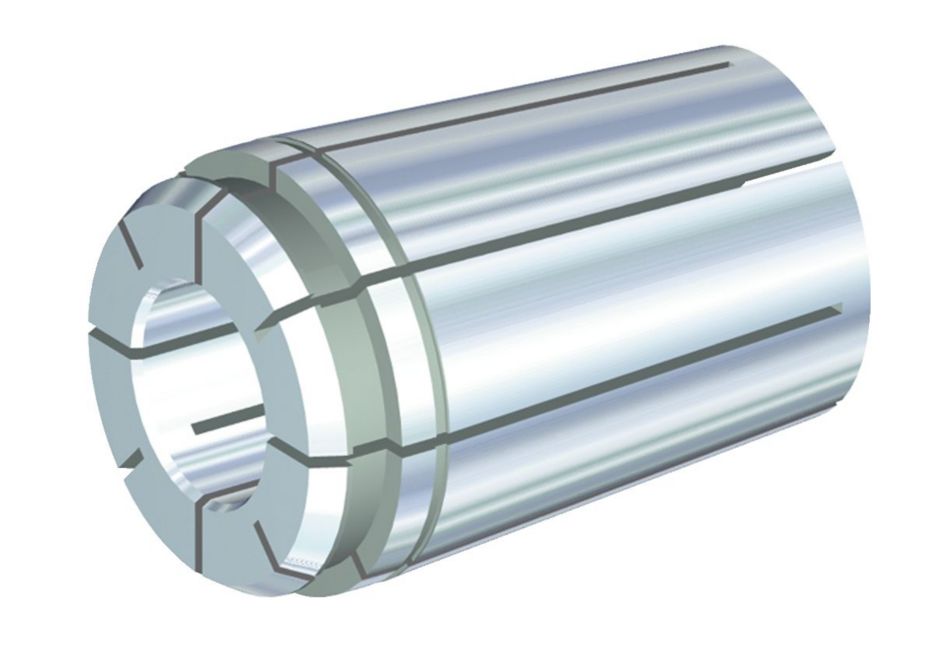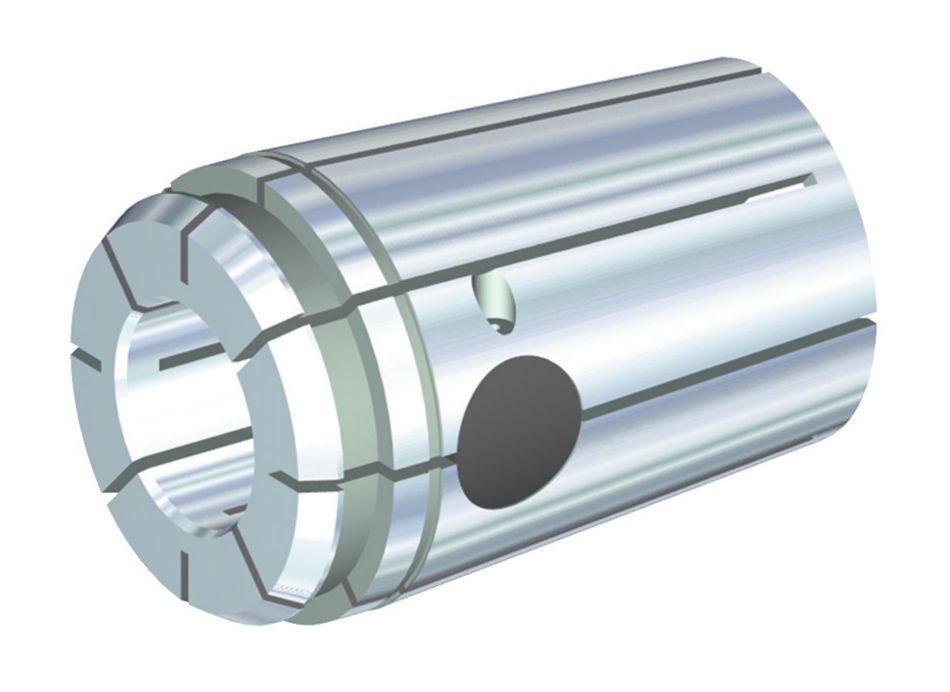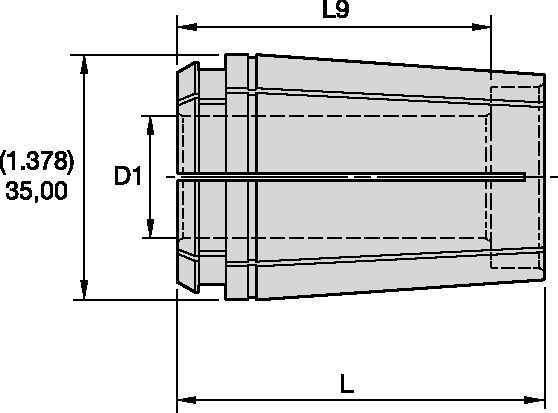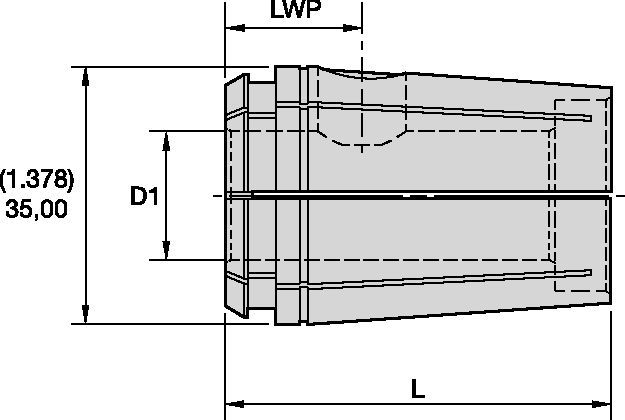 TG150 Series • Metric
TG150 Series
Features and benefits
Provides Tremendous Grip (3:1 advantage) and accuracy for all drilling applications.


Industry-standard Erickson™ single-angle collet system.


0,4mm [.016" (1/64")] range of collapse.


Grips on back taper and margin of drill for maximum feed rates and more accurate holes.


Manufactured to DIN 6499 Class 2 accuracy; see page [44064].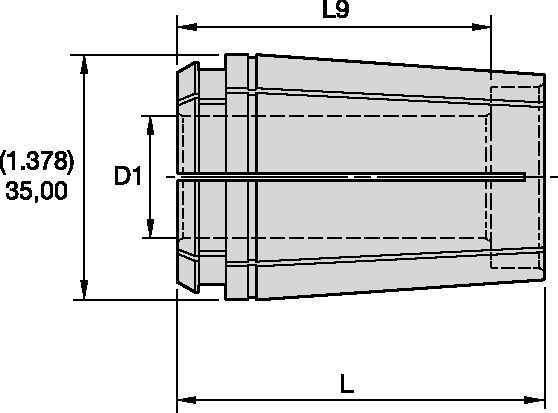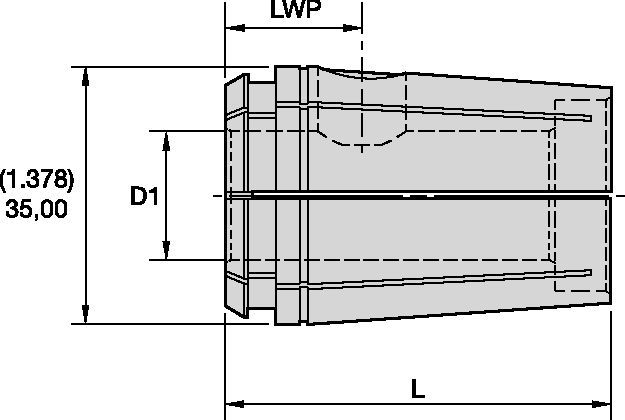 Change the visible columns with any of the parameters listed below. A maximum of 7 columns can be displayed.
Displaying
1-

10
of
25
results
| SAP Material Number | ISO Catalog Number | ANSI Catalog Number | [D1] Clamping Diameter Maximum | [D1] Clamping Diameter Maximum | [CCCX] Collet Capacity Maximum | [CCCX] Collet Capacity Maximum | [CCCN] Collet Capacity Minimum | [CCCN] Collet Capacity Minimum | [L9] Clamping Hole Length | [L9] Clamping Hole Length | [LWP] Length of Weldon Position | [LWP] Length of Weldon Position | |
| --- | --- | --- | --- | --- | --- | --- | --- | --- | --- | --- | --- | --- | --- |
| 1014815 | 150TG120M | 150TG120M | 12.0000 | .4724 | 12.0000 | .4724 | 11.6000 | .4567 | 44.0000 | 1.732 |   |   | |
| 1014817 | 150TG130M | 150TG130M | 13.0000 | .5118 | 13.0000 | .5118 | 12.6000 | .4961 | 44.0000 | 1.732 |   |   | |
| 1014819 | 150TG140M | 150TG140M | 14.0000 | .5512 | 14.0000 | .5512 | 13.6000 | .5354 | 44.0000 | 1.732 |   |   | |
| 1014820 | 150TG145M | 150TG145M | 14.5000 | .5709 | 14.5000 | .5709 | 14.1000 | .5551 | 44.0000 | 1.732 |   |   | |
| 1014821 | 150TG150M | 150TG150M | 15.0000 | .5906 | 15.0000 | .5906 | 14.6000 | .5748 | 54.0000 | 2.126 |   |   | |
| 1014823 | 150TG160M | 150TG160M | 16.0000 | .6299 | 16.0000 | .6299 | 15.6000 | .6142 | 54.0000 | 2.126 |   |   | |
| 1014847 | 150TG180M | 150TG180M | 18.0000 | .7087 | 18.0000 | .7087 | 17.6000 | .6929 | 54.0000 | 2.126 |   |   | |
| 1014849 | 150TG190M | 150TG190M | 19.0000 | .7480 | 19.0000 | .7480 | 18.6000 | .7323 | 76.2000 | 3.000 |   |   | |
| 1014851 | 150TG200M | 150TG200M | 20.0000 | .7874 | 20.0000 | .7874 | 19.6000 | .7717 | 76.2000 | 3.000 |   |   | |
| 1014853 | 150TG210M | 150TG210M | 21.0000 | .8268 | 21.0000 | .8268 | 20.6000 | .8110 | 76.2000 | 3.000 |   |   | |
| 1014875 | 150TG220M | 150TG220M | 22.0000 | .8661 | 22.0000 | .8661 | 21.6000 | .8504 | 76.2000 | 3.000 |   |   | |
| 1014881 | 150TG250M | 150TG250M | 25.0000 | .9843 | 25.0000 | .9843 | 24.6000 | .9685 | 76.2000 | 3.000 |   |   | |
| 1014882 | 150TG255M | 150TG255M | 25.5000 | 1.003 | 25.5000 | 1.003 | 25.1000 | .9882 | 76.2000 | 3.000 |   |   | |
| 1014883 | 150TG260M | 150TG260M | 26.0000 | 1.023 | 26.0000 | 1.023 | 25.6000 | 1.007 | 76.2000 | 3.000 |   |   | |
| 1014915 | 150TG270M | 150TG270M | 27.0000 | 1.063 | 27.0000 | 1.063 | 26.6000 | 1.047 | 76.2000 | 3.000 |   |   | |
| 1014917 | 150TG280M | 150TG280M | 28.0000 | 1.102 | 28.0000 | 1.102 | 27.6000 | 1.086 | 76.2000 | 3.000 |   |   | |
| 1014921 | 150TG300M | 150TG300M | 30.0000 | 1.181 | 30.0000 | 1.181 | 29.6000 | 1.165 | 76.2000 | 3.000 |   |   | |
| 1014945 | 150TG320M | 150TG320M | 32.0000 | 1.259 | 32.0000 | 1.259 | 31.6000 | 1.244 | 76.2000 | 3.000 |   |   | |
| 1014949 | 150TG340M | 150TG340M | 34.0000 | 1.338 | 34.0000 | 1.338 | 33.6000 | 1.322 | 76.2000 | 3.000 |   |   | |
| 1014951 | 150TG350M | 150TG350M | 35.0000 | 1.378 | 35.0000 | 1.378 | 34.6000 | 1.362 | 76.2000 | 3.000 |   |   | |
| 1014953 | 150TG360M | 150TG360M | 36.0000 | 1.417 | 36.0000 | 1.417 | 35.6000 | 1.401 | 76.2000 | 3.000 |   |   | |
| 1014967 | 150TG380M | 150TG380M | 38.0000 | 1.496 | 38.0000 | 1.496 | 37.6000 | 1.480 | 76.2000 | 3.000 |   |   | |
| 1014971 | 150TG400M | 150TG400M | 40.0000 | 1.574 | 40.0000 | 1.574 | 39.6000 | 1.559 | 76.2000 | 3.000 |   |   | |
| 1014023 | 150TGNP250M | 150TGNP250M | 25.0000 | .9843 | 25.0000 | .9843 |   |   |   |   | 22.0000 | .8660 | |
| 1014084 | 150TGNP320M | 150TGNP320M | 32.0000 | 1.259 | 32.0000 | 1.259 |   |   |   |   | 22.0000 | .8660 | |
Replacement
This item is not available
Replacement Product
This item may be available through a distributor