Back to Solution
Editing Solution
Adding Solution
Solution Name:

{{SolutionName}}
Choosing Between Periphery Ground and Molded Inserts
in Indexable Milling Tools for CNC & 5-Axis Machining
Many metal cutting professionals may not realize that the way an indexable milling insert is manufactured has an impact on tool life and surface finish. Let's start with the basics. There are two basic ways to ensure the size and edge prep of an indexable milling insert: A) either the insert is "pressed and sintered to size (PSTS)," meaning that the finish size and edge prep is engineered into the press molds and heating calculations, so that the insert meets the tolerance requirements, or B)  the insert is "periphery ground to size (PG)," meaning a secondary grinding process is used to bring the insert to the final size. Regular industry standard is following the "M" tolerance for PSTS inserts which allows for greater tolerance variation on the diameter. WIDIA global standard is set up to a tighter tolerance "P" for high precision PSTS inserts to achieve a better axial runout and positive impact in better tool life and surface floor finish.
PG inserts are the first choice for finishing, high precision applications like die and mold. In addition, due to sharper edges, PG inserts are well-suited for machining of non-ferrous materials, like aluminum and brass.
Whereas, PSTS inserts are the first choice for semi-roughing and roughing applications. Inserts with tolerance class G, K, C, H are PG. Those with tolerance class P are PSTS.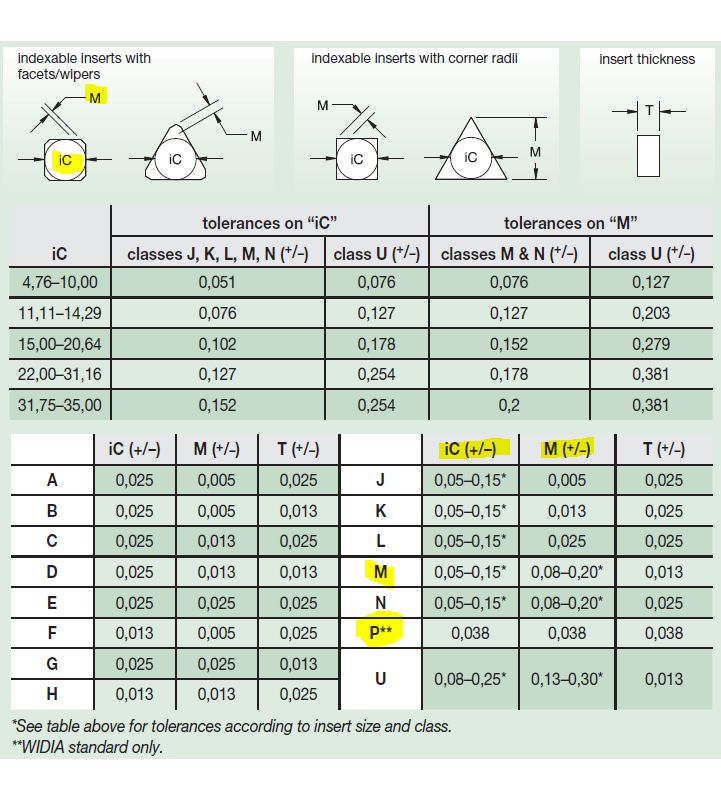 The M class tolerance is much more wide open when it comes to the IC and the "M" dimension (distance from IC to the wiper flat). The P tolerance is a balanced, +/- 0,038 (.0015), for more consistent size.

To get the best surface possible, be sure to align the topography letters on the insert the same way each time. i.e. MM should start in the same position in each pocket and roll inward with each index.