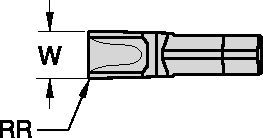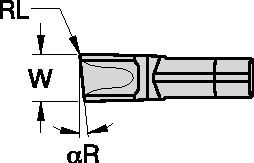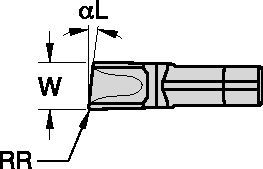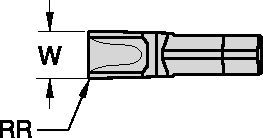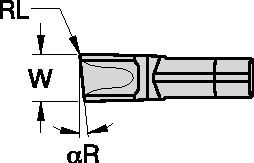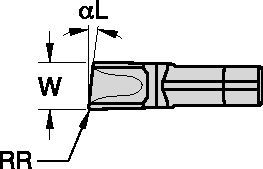 ProGroove™ PGU Inserts
Grooving and Cut-Off Inserts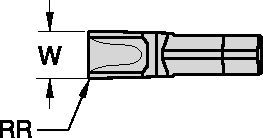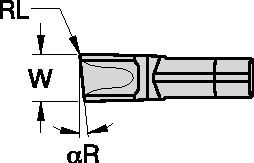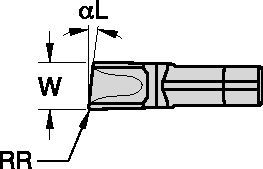 Key Filters
P0

Low-Carbon Steels, Long Chipping

C < .25%; <125 HB; <530 N/mm^2 UTS

(

1

)

P1

Low-Carbon Steels, Short Chipping

C < .25%; <125 HB; <530 N/mm^2 UTS

(

1

)

P2

Medium and High Carbon Steels

C < .25%; <220 HB; <25 HRC; >530 N/mm^2 UTS

(

1

)

P3

Alloy Steels & Tool Steels

C > .25%; <330 HB; <35 HRC; 600-850 N/mm^2 UTS

(

1

)

P4

Alloy Steels & Tool Steels

C > .25%; 350-420 HB; 35-43 HRC; 850-1400 N/mm^2 UTS

(

1

)

P5

Ferritic, Martensitic, and PH Stainless Steels

<330 HB; <35 HRC; 600-900 N/mm^2 UTS

(

1

)

P6

High Strength Ferritic, Martensitic, and PH Stainless Steels

350-450 HB; 35-43 HRC; 900-2400 N/mm^2 UTS

(

1

)

M1

Austenitic Stainless Steel

130-200 HB; <600 N/mm^2 UTS

(

1

)

M2

High Strength Austenitic Stainless and Cast Stainless Steels

150-230 HB; <25 HRC; >600 N/mm^2 UTS

(

1

)

M3

Duplex Stainless Steel

135-275 HB; <30 HRC; 500-1200 N/mm^2 UTS

(

1

)

K1

Gray Cast Iron

120-290 HB; <32 HRC; 125-500 N/mm^2 UTS

(

1

)

K2

Low and Medium Strength CGI and Ductile Irons

130-260 HB; <28 HRC; <600 N/mm^2 UTS

(

1

)

K3

High Strength Ductile and Austempered Ductile Iron

180-350 HB; <43 HRC; >600 N/mm^2 UTS

(

1

)

N

Non-Ferrous Materials

(

1

)

N2

Low-Silicon Aluminum Alloys and Magnesium Alloys

Si <12.2%

(

1

)

N3

High-Silicon Aluminum Alloys

Si >12.2%

(

1

)

N4

Copper, Brass, Zinc-based on machinability index range of 70-100

(

1

)

N5

Nylon, Plastics, Rubbers, Phenolics, Resins, Fiberglass

(

1

)

N6

Carbon, Graphite Composites, CFRP

(

1

)

S1

Iron-Based, Heat-Resistant Alloys

160-260 HB; 25-48 HRC; 500-1200 N/mm^2 UTS

(

1

)

S2

Cobalt-Based, Heat-Resistant Alloys

250-450 HB; 25-48 HRC; 1000-1450 N/mm^2 UTS

(

1

)

S3

Nickel-Based, Heat Resistant Alloys

160-450 HB; <48 HRC; 600-1700 N/mm^2 UTS

(

1

)

S4

Titanium and Titanium Alloys

300-400 HB; 33-43 HRC; 900-1600 N/mm^2 UTS

(

1

)
No filters matching ""
Change the visible columns with any of the parameters listed below. A maximum of 7 columns can be displayed.
Displaying
1-

1
of
1
results
SAP Material Number
ISO Catalog Number
ANSI Catalog Number
Grade
Insert Size
Hand of Tool
[W] Cutting Width
[W] Cutting Width
[RL] Corner Radius
[RL] Corner Radius
2953286
123567340
123567340
TN6030
4
N
4.1000
.1614
0.3000
.0118

List price:

$16.89

/each.
Replacement
This item is not available
Replacement Product
This item may be available through a distributor
Grades
THM

Uncoated carbide. Extraordinarily good balance of hardness, wear resistance, edge stability, and toughness. Light and medium machining. For cast iron and all non-ferrous metals and non-metals. Useful in unfavorable conditions.

TN6030

PVD-TiAlN Nanolayer coated carbide. Medium and heavy machining for steels and nodular cast irons. Recommended at medium cutting speeds when good toughness properties are required.

TN7525

Coated carbide grade TN7525 has an MT-CVD-TiN-TiCN-Al203-TiN coating. Engineered for light
and medium machining of all steels and nodular cast irons.




WM35CT

Coated carbide. MT-CVD/CVD — TTiN-TiCN-Al2O3-TiOCN. Good combination of toughness and wear resistance. Designed for rough machining of stainless steel with heavy interruption. Multilayer coating on substrate with superior toughness makes the grade perform with reliability in unfavorable conditions.