Notifications
Mark all as read
Notifications
Mark all as read
Something went wrong.
We could not find that page. This page might have been removed or relocated.
Please consider using search to find the content you are looking for or go to our Homepage.
You are about to create a duplicate . Do you want to proceed?
You are about to delete Do you want to proceed?
What would you like to rename your to?
Please enter a valid name
Please enter a name for the duplicate
Please enter a valid name
You are about to add to your My Solutions page. Do you want to proceed?
Please enter a valid name
Send a copy of
Please enter a valid Email
Please enter a valid name
You should be logged to see your dashboard information
Session expired due to inactivity, please login again
item(s) successfully added to the cart
. Please enter the desired qty for the material(s) you want to include in your promotion or Proceed Without Promotion and only your base materials will be added to the cart.
| Name | SAP Material Number | ISO Catalog Number | | |
| --- | --- | --- | --- | --- |
Thank you for your registration, pending approval & completion of the registration, your access is currently limited. Full utilization of product search capabilities & collaboration space is available and will remain. Please allow 2 business days for registration completion.
WIDIA Expands TOP DRILL™ Modular X (TDMX) Drill Platform to Machine Stainless Steel and Super Alloys 
New MS geometry delivers stable modular drilling for general engineering and energy applications 
WIDIA™ announced today the release of a new MS geometry insert for the brand's best-selling TOP DRILLTM Modular X (TDMX) drill. With the MS geometry expansion, the TDMX platform now offers three material-specific inserts, broadening the platform's application capabilities to include inclined entry and exit, stacked plates and cross-hole drilling in stainless steel, super alloys, steel and cast iron materials.
"The launch of the MS geometry insert for our TDMX portfolio gives customers a versatile tool for multiple workpiece materials and applications," said Ashokkumar D., WIDIA Global Portfolio Manager. "This new MS geometry is designed to perform in different types of stainless steels and super alloys making it an ideal choice for customers looking for excellent stability and reliability in general engineering and energy machining operations."
In a recent customer test, the TDMX body, paired with the new MS geometry insert, achieved a 60 percent increase in tool life versus competing solutions while machining a 13-8 Hyper Chrome 110 KSI workpiece material at 3XD with a cutting speed of 75m/min. 
The drill's "X"-shaped pocket, and tapered seat provide stability in challenging applications while making it easy to change out the insert without disassembling the body from the holder. These key design features reduce unstable cutting conditions experienced with other drills commonly available in the market today, while enabling higher penetration rates and reducing overall machine set up times and costs. 
All three inserts can be reground to extend the life of the tool. TDMX is available in both imperial and metric sizes in 1.5xD, 3xD, 5xD, 8xD, 12xD and diameter ranges 16 to 40 mm. Orders for the TDMX and MS geometry insert as well as other WIDIA metal cutting tooling can be placed through WIDIA authorized distribution partners.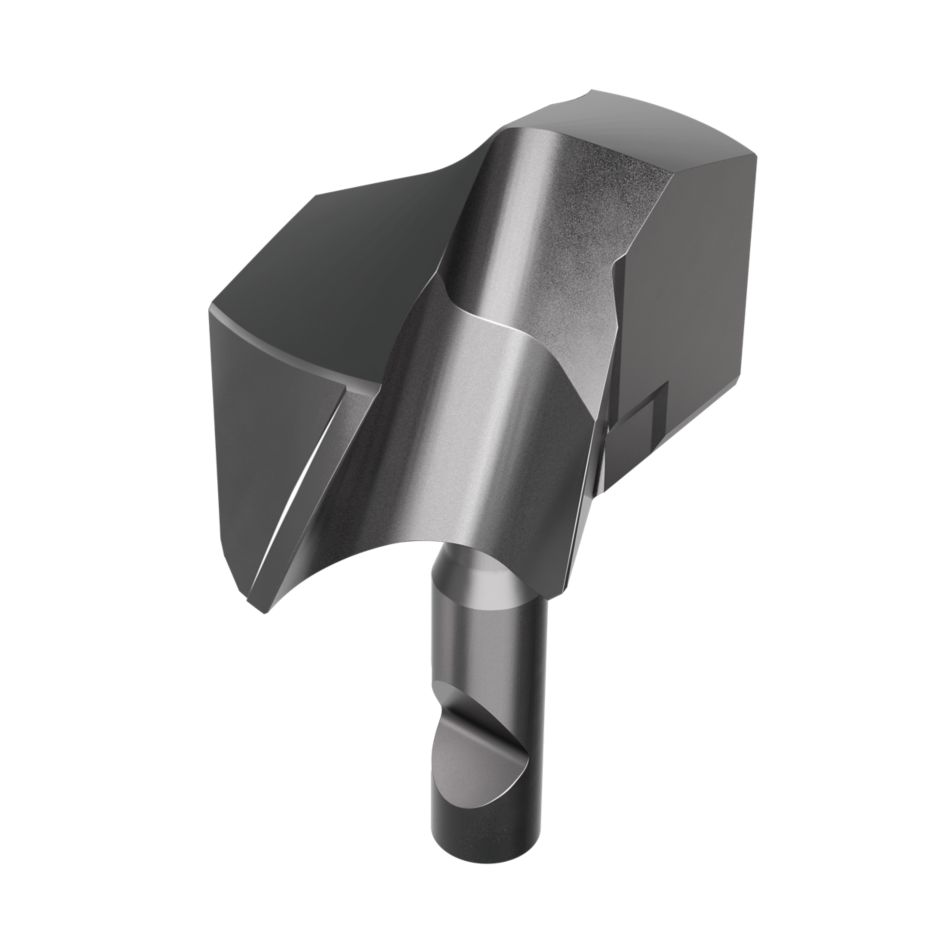 The MS geometry insert for the TDMX modular drill platform provides increased stability when drilling stainless steels and super alloys.