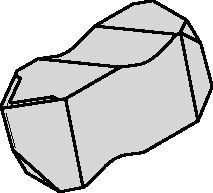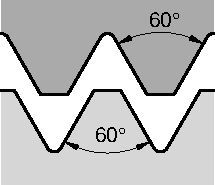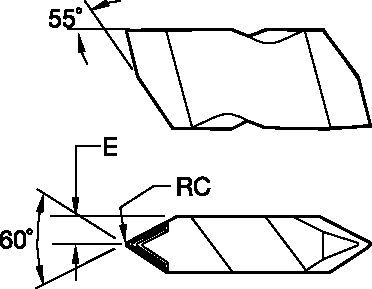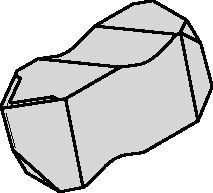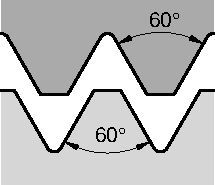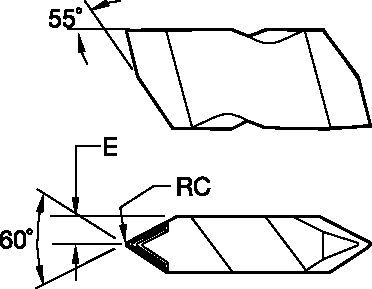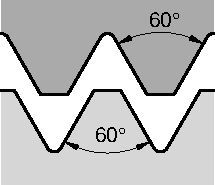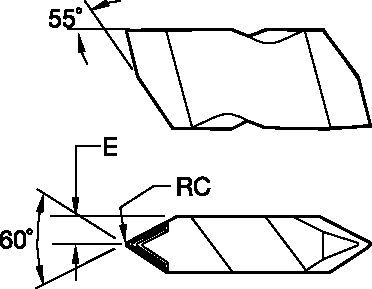 keyFilters
Workpiece Material
P0

Low-Carbon Steels, Long Chipping

C < .25%; <125 HB; <530 N/mm^2 UTS

(

1

)

P1

Low-Carbon Steels, Short Chipping

C < .25%; <125 HB; <530 N/mm^2 UTS

(

1

)

P2

Medium and High Carbon Steels

C < .25%; <220 HB; <25 HRC; >530 N/mm^2 UTS

(

1

)

P3

Alloy Steels & Tool Steels

C > .25%; <330 HB; <35 HRC; 600-850 N/mm^2 UTS

(

1

)

P4

Alloy Steels & Tool Steels

C > .25%; 350-420 HB; 35-43 HRC; 850-1400 N/mm^2 UTS

(

1

)

P5

Ferritic, Martensitic, and PH Stainless Steels

<330 HB; <35 HRC; 600-900 N/mm^2 UTS

(

1

)

P6

High Strength Ferritic, Martensitic, and PH Stainless Steels

350-450 HB; 35-43 HRC; 900-2400 N/mm^2 UTS

(

1

)

M1

Austenitic Stainless Steel

130-200 HB; <600 N/mm^2 UTS

(

1

)

M2

High Strength Austenitic Stainless and Cast Stainless Steels

150-230 HB; <25 HRC; >600 N/mm^2 UTS

(

1

)

M3

Duplex Stainless Steel

135-275 HB; <30 HRC; 500-1200 N/mm^2 UTS

(

1

)

K1

Gray Cast Iron

120-290 HB; <32 HRC; 125-500 N/mm^2 UTS

(

1

)

K2

Low and Medium Strength CGI and Ductile Irons

130-260 HB; <28 HRC; <600 N/mm^2 UTS

(

1

)

K3

High Strength Ductile and Austempered Ductile Iron

180-350 HB; <43 HRC; >600 N/mm^2 UTS

(

1

)

N

Non-Ferrous Materials

(

1

)

N2

Low-Silicon Aluminum Alloys and Magnesium Alloys

Si <12.2%

(

1

)

N3

High-Silicon Aluminum Alloys

Si >12.2%

(

1

)

N5

Nylon, Plastics, Rubbers, Phenolics, Resins, Fiberglass

(

1

)

N6

Carbon, Graphite Composites, CFRP

(

1

)

S1

Iron-Based, Heat-Resistant Alloys

160-260 HB; 25-48 HRC; 500-1200 N/mm^2 UTS

(

1

)

S2

Cobalt-Based, Heat-Resistant Alloys

250-450 HB; 25-48 HRC; 1000-1450 N/mm^2 UTS

(

1

)

S3

Nickel-Based, Heat Resistant Alloys

160-450 HB; <48 HRC; 600-1700 N/mm^2 UTS

(

1

)

S4

Titanium and Titanium Alloys

300-400 HB; 33-43 HRC; 900-1600 N/mm^2 UTS

(

1

)
Applications
ID Thread Turning

(

1

)

OD Thread Turning

(

1

)
No filters matching ""
Change the visible columns with any of the parameters listed below. A maximum of 7 columns can be displayed.
Displaying
1-

1
of
1
results
SAP Material Number
ISO Catalog Number
ANSI Catalog Number
First Choice
Grade
[RC] Corner Radius Center
[RC] Corner Radius Center
[E] Profile Distance
[E] Profile Distance
Insert Size
Thread Pitch External
Thread Pitch Internal
TPI External
TPI Internal
3607838
NT3RCK
NT3RCK

TN6025
0.3400
.0135
2.4600
.0970
3
2,5-4,0
4,0
6-11
6

List price:

$21.10

/each.
Replacement
This item is not available
Replacement Product
This item may be available through a distributor
Grades
TN6010

An advanced PVD TiAlN coating over a very deformation-resistant unalloyed carbide substrate. TN6010 is ideal for finishing to general machining of most workpiece materials at higher speeds. Excellent for machining most steels, stainless steels, cast irons, non-ferrous materials, and super alloys under stable conditions. It also performs well machining hardened and short chipping materials.

TN6025

An advanced PVD TiAlN-coated grade with a tough, ultra-fine-grain unalloyed substrate. For general-purpose machining of most steels, stainless steels, high-temp alloys, titanium, irons, and non-ferrous materials. Speeds may vary from low to medium and will handle interruptions and high feed rates.