DA J, K & L Tap Tension only-SS • Inch
DA J, K, and L Tap Series Double-Angle Collet Chucks, Tension Only
| | |
| --- | --- |
| SAP Material Number | 1017627 |
| ISO Catalog Number | SS075TOJ712 |
| ANSI Catalog Number | SS075TOJ712 |
| [CST] Catalog Collet Series | J |
| [D11] Lock Nut Diameter | 21.4630 mm |
| [D11] Lock Nut Diameter | .8450 in |
| [L] Overall Length | 180.9750 mm |
| [L] Overall Length | 7.125 in |
| [LS] Shank Length | 138.125 mm |
| [LS] Shank Length | 5.438 in |
| [L9] Clamping Length | 51.0000 mm |
| [L9] Clamping Hole Length | 2.007 in |
| [LTN] Slide Tension | 12.7000 mm |
| [LTN] Slide Tension | .5000 in |
| [WF] Distance Across Flats | 14.2700 mm |
| [WF] Distance Across Flats | .5620 in |
| Torque Catalog Foot Pounds | 40 |
| Weight Pounds | 0.72 |
| [D] Adapter / Shank / Bore Diameter | 19.05 mm |
| [D] Adapter / Shank / Bore Diameter | .75 in |
See all Product Variants
Features and benefits
Grip 1:1.


Industry standard Erickson™ double-angle collet system.


Small outside diameter clearance is ideal for use with machining centers, close center-distance, and fixture issues.


Use for through hole tapping.


Solid hard start ensures tap will start at same point every time, regardless if it is sharp or dull.


Key drive.


Right- or left-hand tapping capability.


Alternate springs available to adjust tension pressure to control thread quality in a variety of workpiece conditions.


Positive-drive collets prevent tap slippage.


Economical to use.
Spare Parts for DA J, K & L Tap Tension only-SS • Inch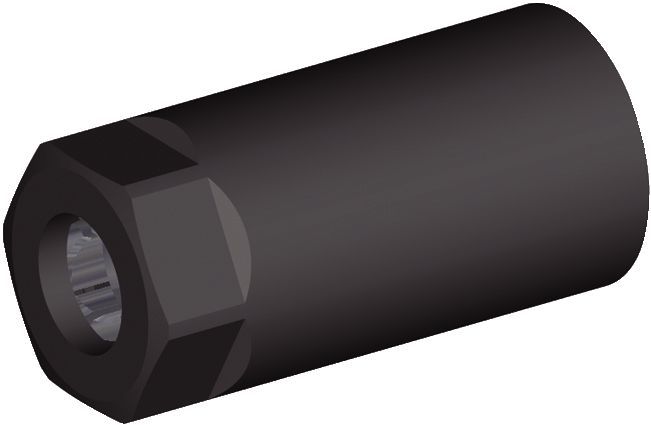 LOCKNUT LNA
3/4 OPEN END WRENCH